SCHIPHOL AIRPORT (AMS) INFORMATION
Origin
Airline
Flight no.
Scheduled
Est./Actual
Status
No flight arrivals were found at Schiphol Airport.
Destination
Airline
Flight no.
Scheduled
Est./Actual
Status
No flight departures were found at Schiphol Airport.
Car Hire at Schiphol Airport
UNBEATABLE VALUE CAR RENTAL
Free Amendments | Free Cancellations | No Card Fees




Schiphol Airport - All Information on Schiphol Airport (AMS) Schiphol Airport
Evert van de Beekstraat 202, 1118 CP Schiphol, Netherlands
phone +31 20 7940800
phone+31 20 333 0333 (Lost + Found)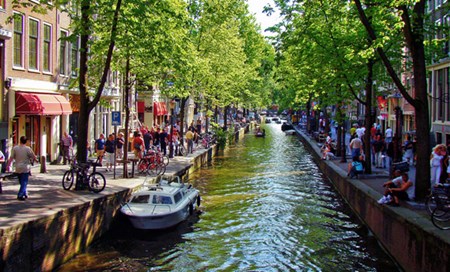 Schiphol Amsterdam Airport serves as the Netherland's main aviation hub for international air travel. Situated just 5.6 miles/9.1 km southwest of Amsterdam, it is not just a destination for world-wide tourists wishing to visit this amazing city, Schiphol is also a major airport for European and inter-continental flight connections.
Its official name is really Amsterdam Airport Schiphol, which is in recognition of the original Dutch word order of Luchthaven Schiphol, similar to the German Flughafen Schiphol name. The official IATA code is AMS to reflect this.
Some of the world's biggest airlines are using the airport as their base, among them KLM, Delta Air Lines and Martinair. The airport is Europe's 4th busiest and in terms of passenger traffic it ranks as the world's 12th busiest airport. In 2017 some 68.5 million passengers were handled and this number has been growing steadily ever since.
Schiphol has no fewer than six runways. The actual building is really one gigantic terminal with three large departure halls. There are plans afoot, which would enlarge the terminal further, even the construction of an additional terminal is under discussion.
The airport charges high landing fees and sees such intense air traffic that many budget airlines have had to move to smaller, less busy locations in the Netherlands, such as Rotterdam, Eindhoven and The Hague for example. There are, however, still plenty of budget airlines offering flights to and from Schiphol, such as EasyJet and Vueling for example, who use the low-cost H-pier to keep costs down for their operations.
Arrivals, Departures and Airlines at Schiphol Airport
Passengers using the airport will find it very busy, but modern and well equipped with large shopping areas such as Schiphol Plaza, a shopping center within the terminal and many car rental suppliers have desks within Schiphol Airport. Indeed, there are other attractions too, such as the world's first airport library, which opened in 2010, no doubt to the delight of many bookworm-passengers, who were looking forward to using the 1,200 books in 29 different languages on offer alongside music that can be downloaded free of charge. There's also a museum to while away the time prior to boarding.
A spacious viewing area on a rooftop provides aviation enthusiasts and visitors with great views over the whole complex. It is not accessible to connecting passengers, but visitors have free access to enjoy a day out and see the various aviation exhibits along the way.
A central plaza connects the various arrivals and departure halls in this one large terminal building. In total passengers have some 165 boarding gates for their use for flights to Ljubljana, Moscow, Madrid, London-City, Malta, Riga, Turing, Milan, Antalya, Hurghada and many more destinations in Europe and the rest of the world.
Getting to Amsterdam airport and leaving it is easy with a major railway station being located underneath the passenger terminal complex. From here trains connect to other cities in the Netherlands, such as Rotterdam, Eindhoven, Enschede and Groningen for example.
Via the international high speed train connection called Thalys passengers can travel to international destinations such as Brussels or Antwerp in Belgium and Paris in France. An intercity train connects Amsterdam also with Berlin in Germany, with services running every 2 hours.
Buses also run regularly between the airport and the city of Amsterdam throughout the day and night. Motorists can take the highways A4 and A9 to Schiphol Airport and park their cars in one of the thousands of parking spaces available for short stay and long stay.
The official code of AMS is assigned to Amsterdam Schiphol Airport. Please find below GPS coordinates which may help you in your arrival or departure. The Coordinates are 52.30861, 4.76389 which you can enter into your Smartphone or in-car GPS.
Parking at Schiphol Airport
See options for parking services at Schiphol Airport.
Hotels near Schiphol Airport
There are a number of hotels to suit all budgets and requirements at or near Schiphol Airport.
Additional Services and Amenities at Schiphol Airport
At Schiphol Airport you will find the usual array of bars and restaurants, airport lounges and shops.
Things to do in Schiphol
There are a number of activities to suit all ages and interests in the region - see a selection of tourist activities in Schiphol, Netherlands.
Services at Schiphol Airport
Useful Information about Schiphol Airport